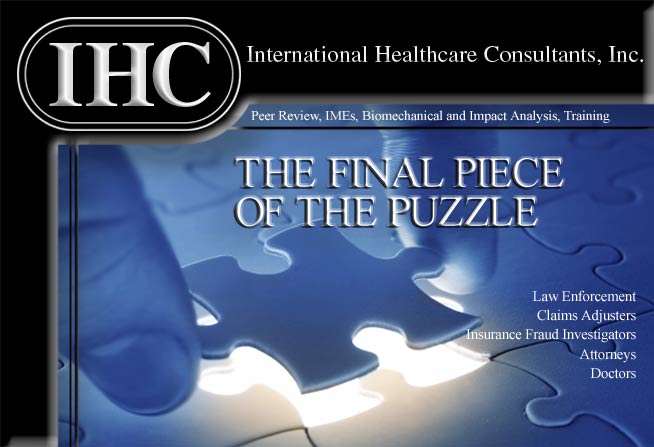 ABOUT US
INTERNATIONAL HEALTHCARE CONSULTANTS, INC. started in the early 1980's with a beginning in medical claim utilization review, primarily focusing on healthcare analyses. Shortly after formation, IHC acquired one of its competitors, which quickly brought its combined experience and reputation in the forensic consulting business to over ten years. IHC has been in the forensic support industry for 35 years and has built an enviable reputation for quality and expertise.
Dr. Rick Wakefield JD, DC, PA
At the forefront of IHC is its President and CEO, Dr. Rick Wakefield JD, DC, PA. Dr. Wakefield has amassed such an impressive and broad array of experience and education that his personal following is of national stature. Just a sampling of his areas of expertise include undergraduate education as a surgical physician assistant from the University of Florida with graduate surgical study at Yale University School of Medicine, experience in emergency and trauma medicine, licensure as a chiropractor since 1984, a graduate degree in the study of law, faculty positions at several universities and medical schools, numerous continuing education courses in aspects of engineering and impact biomechanics, and the design and implementation of automobile crash studies. Because of the extremely broad scope of his background and personal experience, Dr. Wakefield is able to direct the products offered by IHC in a manner which is technically accurate, as well as being helpful in a practical sense, for the case evaluation process. As a speaker who is in demand nationwide, he has entertained seminar participants and industry professionals across the country with his wit and insight.
IHC
Over the years, IHC has expanded its focus and enviable reputation to now include all areas of medical expertise. We provide a specialized analysis of medical cases in virtually all medical specialty areas. Support of these medical consultations is provided by engineering and other scientific evaluations as they are relevant to each particular claim issue. In addition, we can arrange onsite special investigations where this tool is helpful in evaluating the case.
At all times, IHC requires that its consultants maintain total objectivity in each and every file. Our reports provide comprehensive reviews of the information provided, with an emphasis on the fairness of the determination and conclusions which are presented. IHC offers its objective evaluations to attorneys and any other professionals who may have need of objective scientific and medical forensic reporting.
The services offered and experience provided by consultants engaged by IHC are constantly being refreshed and expanded. We are able to work with clients on an individual basis in order to offer design services which will fill a need in your organization. For a summary of our more frequently requested consultations, please see our home page. For special services and other inquiries, please contact IHC at 770-926-0062, or by facsimile 770-926-0347.
We look forward to hearing from you.
©International Healthcare Consultants, Inc. All rights reserved. 2019