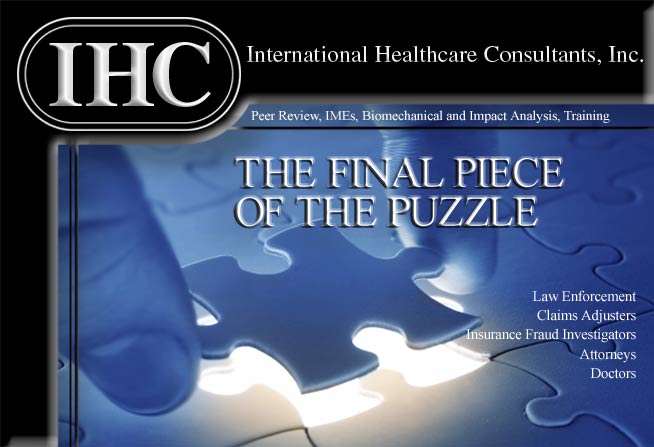 IMEs Peer Review All specialties Biomechanical Impact Analysis
ACCIDENT RECONSTRUCTION
LOW IMPACT ANALYSIS
AIRCRAFT INCIDENT INVESTIGATIONS
PRESSURE VESSEL EVALUATIONS
BIOMECHANICAL ANALYSIS
The substance of Engineering services is injury causation and property evaluation. IHC has been instrumental in the development of low impact analysis programs for several clients. IHC has brought its considerable expertise in the physical sciences, and in engineering and physics, to the design and implementation of effective low impact analysis programs. IHC impact analysis services offer both a comprehensive medical review as well as the engineering report on low impact ; the combination of these two elements provides a thorough and comprehensive understanding of the occurrence.
IHC medical consultants are licensed physicians and healthcare professionals. They are able to review the engineering impact analysis portion of our report and apply that information to the specific set of medical circumstances which may exist with respect to each individual. The medical report takes the engineering data into consideration and determines how the forces were applied to the individual, and what the effect was. In addition, if new medical information is discovered later, our report is not obsolete. Our clients may submit supplemental information at any time and request an update to our first report. This ensures that the combined engineering and medical impact analysis or accident reconstruction report provided by IHC always reflects the most current and useful data, medical information, and changes in the patient's condition. This ability to update information is of inestimable value in the litigated or disputed case situation.
Not all Engineering services are related to motor vehicle accidents. IHC is able to offer general Engineering analyses of material failure. This type of flexibility will assist in products liability evaluations and many other types of cases. See other SERVICES under Science to your left for ways in which our clients can combine investigations, analyses and reports to achieve the greatest benefit in serious case evaluation.
If the particular case justifies the expense, a special demonstration of vehicle impact can be reconstructed and tested to the particular specifications and circumstances presented.
Our reports may be compiled as either a low impact analysis or as a complete accident reconstruction. In most situations, one of these products will be critical to the legal team.
Please see additional information about Medical and Science investigations which may complement our Engineering services during your claim handling, as well as Legal support. All special services with Engineering consultants, including telephone conferences, depositions and trial testimony, must be scheduled through IHC personnel. IHC staff time for scheduling and coordinating special services, and for travel and similar arrangements, will be billed in addition to the consultant's fee.

©International Healthcare Consultants, Inc. All rights reserved. 2019