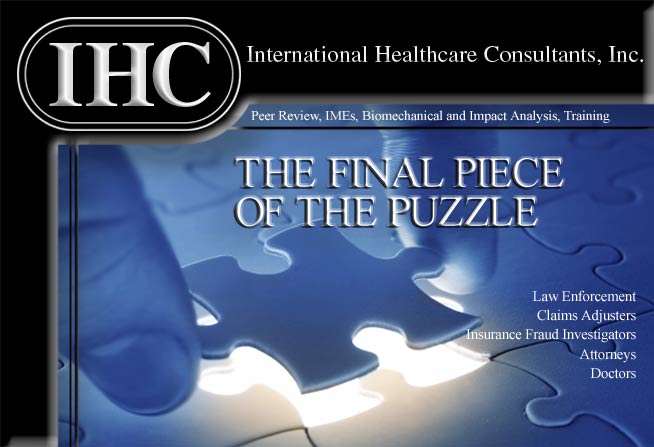 Legal Consulting
In our involvement with the preparation and management of the case evaluation process, IHC has observed over the years that there is often a missing element of file preparation. The medical or accident case may seem to be a simple case. However, in the simple or high profile case, whether it is medically complex or puzzling from the engineering view, IHC will be able to provide assistance which is targeted to your particular need. Examples of services which we have provided are:
analysis and organization of voluminous medical records;
a text report on research of specific medical issues;
preparation of a time line showing treatment applications and surgical history;
a textual summary of the provider's efforts compared to the diagnosis and consultant's recommendations;
expert testimony by qualified professionals;
preparation of deposition questions or written interrogatories directed to the expert (for discovery deposition or trial);
evaluation of the expert's medical testimony (after deposition) for cross examination at trial;
consultation with attorneys to prepare a trial strategy based upon the medical diagnosis, records, prognosis and litigation concerns; and
one on one interviews with healthcare providers to discuss treatment recommendation, diagnosis or treatment regimens.
Legal support services are not limited to medical issues. IHC is frequently involved in cases which turn on engineering aspects and in many other areas as they relate to the trial strategy.
IHC can be an important member of the coordinated legal team. Please see Medicine, Engineering and Science within our SERVICES pages for more detailed information about investigations and evaluations to assist in comprehensive c evaluation and defense. All legal support services are tailored to fit your special needs and are billed hourly and fees vary depending upon the personnel required to complete the request.
©International Healthcare Consultants, Inc. All rights reserved. 2019